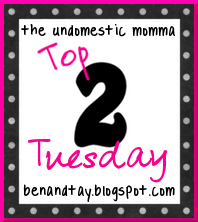 This is my first time to get to participate in Taylor's Lovely Top 2 Tuesday!! Just pretend that I did this on Tuesday and not Wednesday, k? I just found this lovely lady not that long ago and I just adore her!! If you are not following-you are missing out!
Drumroll please..............
1. Forever 21....at 24?
Yeah that's right, I am 24 and I shop at Forever 21!!! I am not even ashamed. I LOVE this store. My life would not be complete without it! I bet 95% of my closet is from there! I just love all of the cute trends for the cheap!
2. Marshall's
Have I mentioned that I am a complete cheapo? I LOVE ME A BARGAIN. And if you find a good Marshall's(some of them are horrible) you can find some of the best designer jeans, purses, shoes, and clothes around! Plus, I really like the feeling of accomplishment I get when I do find something after all of that digging through the rack. It makes me feel like I really deserve to buy what I find after all of that hard work! :)
What are your must stop places to shop?